Jalapeño Poppers
Jalapeños stuffed with cheddar cheese, breaded and fried, served with our signature ranch for dipping.
Onion Rings
Thinly sliced onions dredged in our special blend breading and fried golden.
Spinach & Artichoke Dip
Blend of spinach, artichoke hearts, and three cheeses, served with homemade tortilla chips.
Rivertown Nachos
Homemade tortilla chips piled higher than the levee, layered with black beans, cheddar cheese,
tomatoes, sour cream, pico de gallo, jalapeños and avocado aioli.

ADD GRILLED CHICKEN $5
Railroad Ties
Mozzarella breaded and fried till golden, served with homemade marinara sauce.
$7
Southwest Eggrolls
Crispy flour tortillas, chicken, black beans, corn, jalapeño Jack cheese, red peppers, spinach, served with our Tangy Gold sauce.
BCB
Boneless chicken bites that are fried till golden
and coated in your choice of BBQ, Buffalo, or Sweet Chili Glaze.
Cheese Fries
Our fresh cut fries served with a mound of melted cheddar cheese.
Debris Fries
Fresh cut fries covered in our homemade roast beef debris.
Sliders
A duo of char-grilled burgers
served on classic slider buns.

MAKE THEM A "FATTY" +$2.00
Caesar Salad
Crisp Romaine, croutons, and Parmesan cheese served with our homemade Caesar dressing.
House Salad
Traditional house salad with tomatoes, Romaine, cucumber, and a choice of the following dressings: Ranch, Honey Mustard, or Bleu Cheese.
South of the Border
Go on a southern expedition with this salad made up of the following: Homemade southwestern dressing mixed in a blend of Romaine, black beans, tomatoes, corn, and tortilla crumbles.
P&P Signature Salad
Our famous salad with a blend of Romaine lettuce, carrots, green onions, Nappa, and red cabbage, topped with our signature Asian dressing and almonds.
ADD TO ANY SALAD:
Fried Chicken
Grilled Chicken
Fried Shrimp
Grilled Shrimp
served on corn tortillas
Shrimp Taco
Fresh Gulf Shrimp sautéed in our special blend seasoning, served with our signature Asian Slaw and Mango Chutney. (3)
Fish Taco
Fresh fish filet sautéed or fried in our special blend seasoning, served with our signature Asian Slaw and Mango Chutney. (3)
Vegetable Medley
Fries
Caesar Side Salad
House Side Salad
Served with fresh cut French fries.
Caesar Wrap
Romaine, Parmesan, fresh croutons and our signature Caesar dressing rolled in a heated tortilla. Your choice of grilled chicken or grilled shrimp.
Chicken Cattle Melt
Grilled chicken smothered in bell peppers, onions, tangy sweet BBQ glaze and Swiss cheese, served panini style on New Orleans style French bread.
Monster Club
Ham, turkey, thick cut bacon, Romaine, mayo, lettuce, and tomato served on our sourdough bread.
Roast Beef
Slow roasted overnight served Debris style on classic New Orleans French bread.
Creole Onion Chicken
Grilled chicken smothered in honey mustard with melted cheddar cheese and Zapp's Creole Onion chips, served between New Orleans French bread.
Double Dog Dare You
All beef dog served with homemade bacon marmalade, cheddar cheese, and candied jalapeños.
Shrimp Po'Boy
Grilled or fried shrimp served on classic New Orleans French bread.
All burgers are 10 oz. chargrilled, served with fresh cut French fries.
P&P Burger
Traditional signature burger chargrilled to your taste.
The Judge
Cheese lover's heaven smothered in cheddar cheese above and below.
Allie Cat
Our fresh ground meat mixed with jalapeños and bacon smothered in cheddar cheese.
Cajun Burger
Get a little Cajun with this burger seasoned with crab boil.
The Impossible Vegetarian
100% plant-based vegetation, all natural patty with the look and taste of beef.
Patti Melt
Smothered with grilled mushrooms and Swiss cheese. Add grilled ham and grilled onions for an even more exciting taste adventure!
ADDITIONS: $.50:
Cheddar, Swiss, Peanut Butter
ADDITIONS: $1.00:
Grilled Onions, Grilled Mushrooms,
Bacon, Grilled Ham
ADDITIONS: $3.00:
Grilled Shrimp, Fried Egg
All entrées served with House or Caesar salad.
Filet
8 oz. tender filet grilled to your liking and served with our version of potatoes au gratin.
Train Yard Chicken
Sautéed chicken in balsamic and Creole mustard with smothered onions and mushrooms served with a vegetable combination.
Here Fishy Fishy
Fish of the day sautéed in our special seasoning blend and topped with our Mississippi River Sauce, served with a vegetable medley.
Here an Oink
Thick cut pork loin grilled to perfection with a tangy sweet glaze served with combination of vegetables.
Frying Nemo
White flaky fish dipped in our pale ale batter fried golden, served with fresh cut fries.

Cast Iron Brookie
A fresh baked cast iron chocolate chip cookie topped with a hot brownie and vanilla ice cream.
Chocolate Pots de Crème
Our homemade chocolate velvety smooth dessert custard will end your night on a rich note!
Glass Bottle Barqs
Glass Bottle Coca Cola
Ice Tea
Unsweet or Sweet
Fountain Drinks
Coca Cola, Diet Coke, Coke Zero,
Barq's Rootbeer, Red Cream Soda, Sprite, Lemonade, Dr. Pepper
Free Refills on Fountain Drinks,
Water, and Ice Tea only.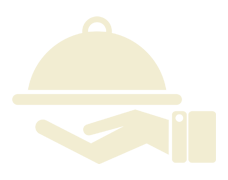 512 Williams Blvd, Kenner • 504-282-9113​